Florida has long been known as a retirement destination for seniors. With the state's comfortable tropical climate and reasonable
cost of living
, it's no wonder so many prefer to call Florida home during their golden years. In fact, more than
20% of the state's 21,477,737 residents
are aged 65 and older.
Independent living facilities provide seniors who are capable of caring for themselves with limited support as they age. In independent living communities, residents are typically provided with services such as housekeeping, meals and social activities while continuing to enjoy the freedom of an active, independent lifestyle. In Florida, the average cost of independent living is about $2,405 per month.
This guide covers more about the cost of independent living in Florida and surrounding states. It also provides information about how seniors can pay for independent living, as well as free resources that are available to seniors throughout the state
The Cost of Independent Living in Florida
Note
: Independent Living focuses on active social lives without supportive care and generally costs less than Assisted Living by 30-40%. Since there aren't any authoritative reports available for Independent Living, we established an estimated cost by subtracting 35% from the average cost of Assisted Living as posted in the
2021 Genworth Financial Cost of Care Survey
.
Seniors in the Sunshine State pay less for Independent Living compared to the national average, about $325 less per month. However, the average costs in all the surrounding states are lower than in Florida. Compared to Florida, the average costs of Independent Living are less in Mississippi by $325, in Alabama by $322, in Georgia by $302 and in South Carolina by $252. Average costs are closest in Louisiana where they're still lower by $164.
Within the state, cities have vastly different Independent Living costs. Down south, Miami's average cost of Independent Living is $2,850 while Naples is $3,445. Seniors in the panhandle pay an average of $2,810 in Pensacola. On the Gulf side of Florida, Tampa offers an average cost of $2,178, while Orlando mirrors the state average of $2,600.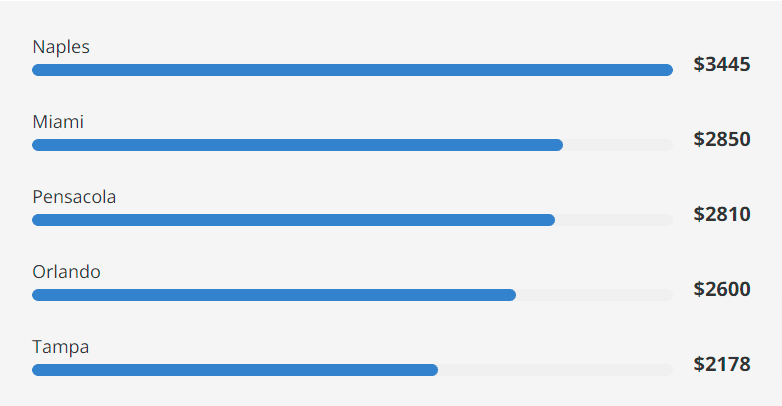 Seniors needing a higher level of care than they'd receive in Independent Living may want to consider other senior care options. Adult Day Health Care offers a low level of care with the lowest average cost at $1,517 per month. Assisted Living offers care in a residential setting at an average cost of $4,000. Seniors can also opt to receive care at home with an average cost of $4,767 for either In-Home Care or Home Health Care. Nursing Home Care has the highest cost but offers the highest level of care with semiprivate rooms averaging $8,654 and private rooms averaging $9,627.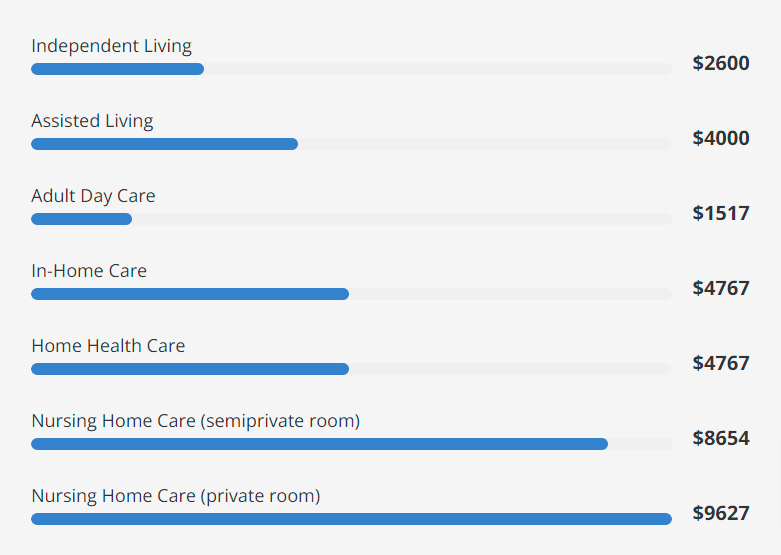 Can You Use Medicare or Medicaid to Pay for Independent Living in Florida?
Unfortunately, you cannot use Medicaid and Medicare to help pay the monthly fee for residing in an Independent Living community. For seniors who need help with Activities of Daily Living (ADLs), there may be financial assistance programs available to help cover the cost of care in Independent Living. For more information about financial assistance for those who need a higher level of care, read our guide to
Assisted Living in Florida
.
Read on for more information about using alternative means to make Independent Living more affordable, such as retirement funds, the sale of a home, etc.
Independent Living Resources in Florida
Throughout Florida, there are several free and low-cost resources that can provide support for seniors who live there. These resources may provide help with medical insurance, nonmedical transportation, or other support services.
| RESOURCE | CONTACT | SERVICE |
| --- | --- | --- |
| Florida Highway Safety and Motor Vehicles - Disabled Person Parking Permits | (850) 617-2000 | Plenty of seniors who live independently continue to drive well into their retirement years. However, some are living with disabilities that prevent them from walking long distances. For those who need it, Florida Highway Safety and Motor Vehicles issues disabled person parking permits, which can be obtained by applying at any local service center. |
| Florida Commission for the Transportation Disadvantaged | (850) 410-5700 | The Florida Commission for the Transportation Disadvantaged arranges public or private transportation for seniors who are otherwise unable to transport themselves to appointments, errands or visits with loved ones. |
| Department of Elder Affairs | (800) 963-5337 | The Department of Elder Affairs operates an array of programs that promote independence and wellness among Florida's senior population. It operates local Aging and Disability Resource Centers throughout the state which offer services such as Medicare/Medicaid counseling, nutrition programs and senior transportation services. |
| Florida Senior Safety Resource Center Non-Emergency Transportation | (850) 926-7145 | The Florida Senior Safety Resource Center offers non-emergency transportation for seniors in most counties throughout the state. Rides are available for medical appointments, shopping trips and emergencies. |
| Florida Council on Aging | (850) 222-8877 | The Florida Council on Aging serves seniors throughout the state, as well as their caregivers, by providing services that range from advocacy and education to resource referrals. This organization is committed to preserving the independence and wellbeing of Florida's older population. |